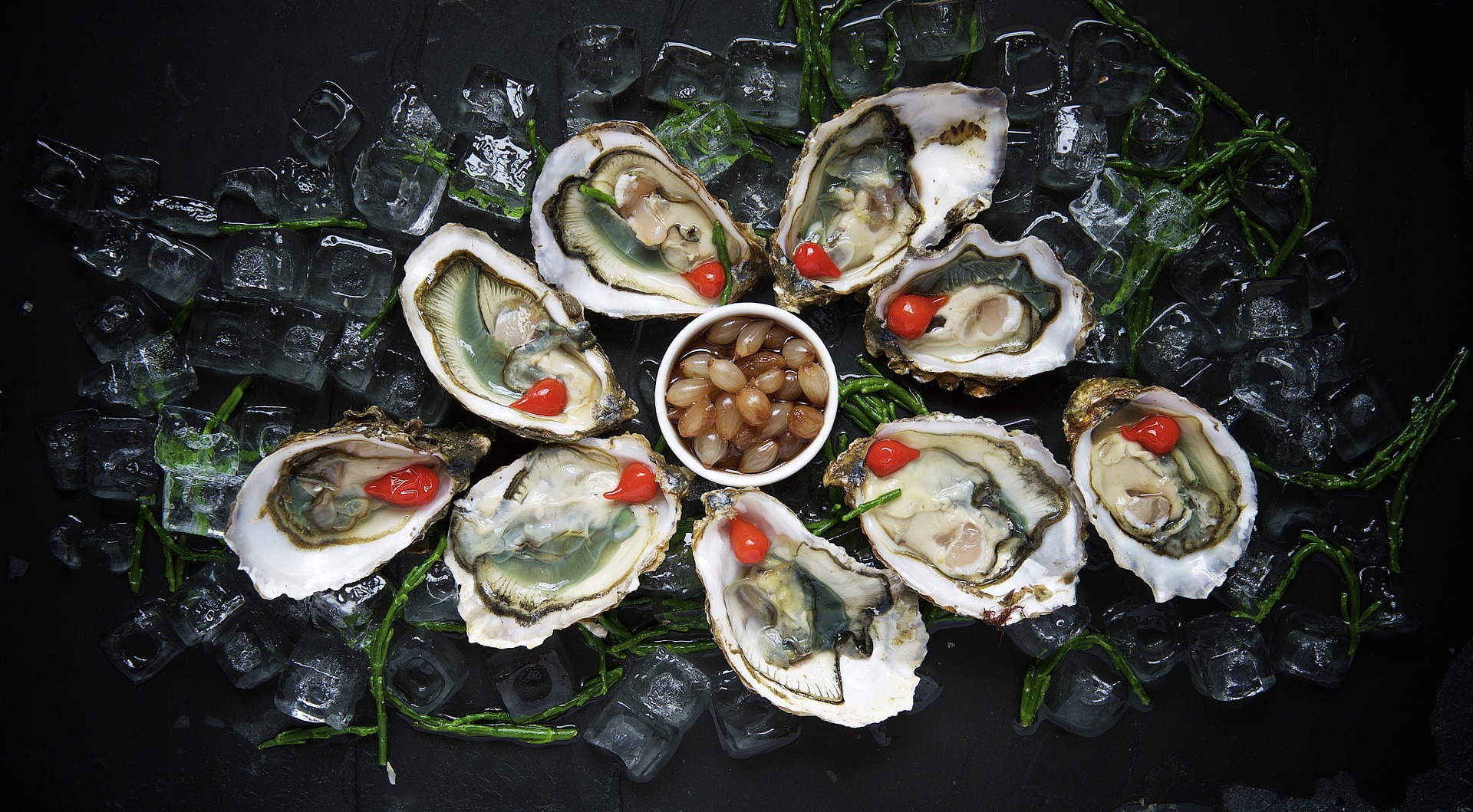 Halcyon Brasserie & Bar
Wild caught × crafted with love
Located in Montclair, Halcyon Brasserie is a purveyor of fine American dining.
The Halcyon Brasserie is a neighborhood restaurant offering a raw bar, chef prepared entrees, and brasserie plates. Sit down for dinner, or join us at our casual, yet impressive bar. Our full bar serves fresh cocktails, martinis, rotating beer on tap, and generously poured wines. In addition to our dinner menu, you can visit us every Sunday for Sunday Brunch!
Sit down to dinner, have a drink at our bar, or discover our comfortable upstairs lounge where you can enjoy craft cocktails and live music. The perfect space for private parties.
Hours of Operation
Monday
5:00PM - 9:30PM
Tuesday - Thursday
5:00PM - 10:30PM
Friday - Saturday
5:00PM - 2:00AM
Sunday
Sunday Brunch: 11:30AM - 3:00PM
Dinner: 3:00PM - 9:00PM
Contact Us
PHONE: (973) 744-4450
114 Walnut Street
Montclair, NJ 07042
Special Events and Promotions
MAKE YOUR RESERVATION ONLINE OR CALL 973-744-4450 AND SPEAK WITH OUR HOST
*Parties of 8 OR MORE must call to make A reservation*
East & West Coast Oysters
Oyster Gaspacho "Shooter"
House Smoked Salmon Plate
Halycon
8 Oysters, 8 Clams, 4 pc Shrimp Cocktail
Kingfisher
8 Oysters, 8 Clams, 4 pc Shrimp Cocktail, Colossal Crab Cocktail, 4 Oyster Shooters
Burrata & Heirloom Tomato Salad
Arugula, Lemon, Basil, Vincotto
Ahi Tuna Pokè
Persian Cucumber, Avocado, Hijiki, Cilantro, Yuzu Vinaigrette, Sesame, Taro Chips
Filet Mignon Carpaccio
Micro Seaweed Salad, Wasabi Aioli, Truffle Soy, Spiced Nuts, Sesame Cracker
'Osaka' Style Sushi
Wasabi, Soy, House Made Ginger
Char Grilled Octopus
Castelvetrano Olives, Cannellini Beans, Potatoes, Salsa Verde
Crispy Calamari
Citrus Chile, Ginger Glaze, Scallions
Grilled Oysters
Lemon Butter, Parsley, Parmesan Cheese (6pcs)
Pan Seared Colossal Crab Cake
Tarragon Remoulade, Frisèe Salad
Halcyon Tacos
Choice of Spicy Filet Mignon or Blackened Fish, Pico De Gallo, Jalapeño, Slaw, Cilantro
Prince Edward Island Moules Frites
Cream, Pernod, Shallots, Fresh Herbs
Kimchi Fried Rice
Tofu, Brown Rice, Egg, Mushrooms, Bok Choy, Soy, Sesame, Scallions (V)
Lobster Salad
Spring Greens, Peaches, Bacon, Cornbread Croutons, Crumbled Egg, Tomato, Yuzu
Blackened Grand Banks Swordfish
Grilled Asparagus, Kale, Citrus Beurre Blanc
New Bedford Diver Sea Scallops
Beluga Lentils, Frisèe, Lardons, Dijon Sauce
Oven Roasted Whole Branzino
Sautéed Wild Mushrooms, Baby Bok Choy, Fresh Lemon, Capers
Prime California Cheese Burger
Lettuce, Tomato, Onion, Mustard Aioli, Pickles, Pommes Frites
Pomegranate BBQ Baby Back Ribs
Chilè-Cheddar, Cornbread, Seasonal Greens
Salmon 'Nicoise'
Fingerling Potatoes, Haricot Verts, Capers, Olives, Egg, Tomato
Pan Seared Colossal Crab Cakes
Tarragon Remoulade, Frisèe Salad
Paella
Saffron Rice, Scallop, Shrimp, Mussels, Clams, Chicken, Chorizo, English Peas
Filet Mignon Steak Frites
8 oz Filet, Bistro Salad, Parmesan Truffle Pommes Frites, Bearnaise Sauce
Organic Pan Roasted Chicken
Smashed Potatoes, Leeks, Mushrooms, String Beans, Chicken Jus
Little Gem Caesar Salad
Lardons, Parmesan Breadcrumbs
Bistro Salad
Lemon Basil Vinaigrette
Broccolini, Chile Breadcrumbs
Truffle Parmesan Pommes Frites
Executive Chef - Carlos Valdez
Bread service is available upon request.
Note: Consuming raw seafood or shellfish may increase your risk of food-borne illness, especially if you have certain medical conditions.
20% Gratuity Will Be Added To Parties of 6 or More.
Sunday Brunch
11:30 Am - 3 Pm
Check Out Our New Children's Brunch Options!
Breakfast Burrito
Scrambled Eggs & Cheese in a Tortilla
Plain Buttermilk Waffle
Fresh Fruit & Syrup
Bagel with Cream Cheese & Jelly
Margherita Pizza
Tomato, Mozzarella Cheese, Basil (or not!)
Fresh Grapefruit Greyhound
Halcyon Mary
Blue cheese, Stuffed Olive, Sharp Cheddar, Celery, Thick Cut Bacon *Add Jumbo Shrimp Cocktail +6*
Raw Bar
Blood Orange Margarita
Aldez Blanco Organic Tequila, Agave, Fresh Lime & Blood Orange Juice
Raw Bar
Fresh Berries & Granola
Plain Yogurt, Honey Drizzle
Plain Buttermilk Waffle
Maple Syrup, Fresh Berries
Prince Edward Island Moules Frites
White Wine, Garlic, Shallots, Cream, Pernod
Chargrilled Oysters
Lemon Butter, Parsley, Parmesan Cheese (6 pcs.)
Colossal Crab Cake
Remoulade, Frisèe Salad
Farm Egg Flatbread
Spinach, Free Range Eggs, Crispy Lardons, Mozzarella & Parmesan
Croque Madame
Ham, Gruyere, Sunny Side Up Egg, Dijon Sauce, Pommes Frites
House Smoked Salmon & Gravlax
Toasted Bagel, Cream Cheese, Hard Boiled Egg, Red Onion, Capers, Bistro Salad
Eggs Benedict
Canadian Bacon, Poached Eggs, Spinach, English Muffin, Little Bistro Salad, Hollandaise
Fried Chicken & Waffles
Maple Syrup
California Cheeseburger
Dijon Aioli, Pickles, Lettuce, Tomato, Crispy Onion, Pommes Frites
Halcyon Tacos
Blackened Fish, or Filet Mignon
Pomegranate BBQ Baby Back Ribs
Chile-Cheddar Cornbread, Seasonal Greens
Bistro Salad
Lemon Basil Vinaigrette
Bagel with Cream Cheese or Butter
Halcyon Crush
Vodka, Watermelon, Basil Lemonade
The Backgreen
Hendrick's Gin, Cucumber, Mint, Fresh Grapefruit, Fever Tree Mediterranean Tonic
Mezcal Old Fashioned
Montelobos Mezcal, Grapefruit Bitters, Rosemary Infused Agave
East Meets West
Misunderstood Ginger Whiskey, Yuzu, Fever Tree Orange Spiced Ginger Ale
"Shochu 75"
Haku Japanese Rice Vodka, Yuzu, Lavender, Sparkling Wine
Halcyon Days
Vodka, Lemon, Elderflower Liqueur
Grimmlet
Deep Eddy Grapefruit Vodka, Fresh Lime, Agave
La Rosa
Còdigo Rosè Tequila, Cucumber Bitters, Pamplemousse Liqueur
Rioja Blanco 2018 Excellens Marques de Caceres
(Rioja, Spain)
Riesling 2018 Maximin-Grunhaus, Carl von Schubert
(Mosel)
Sauvignon Blanc 2018 "Wax Eye" Forefather's
(New Zealand)
Pinot Grigio 2018 Barone Fini DOC
(Valdadige)
Rosè Rose of Pinot Noir 2018 Hahn Estate
(Arroyo Seco, Monterey)
Rosè 2018 Club 44, Dom. Bagrau
(Coteaux d'Aix-en, Provence)
Chardonnay 2017 Chalk Hill
(Sonoma Coast)
Sancerre 2018 Les Fossiles Philippe Raimbault
(Loire Valley)
*Full wine list available
Malbec 2016 Bodega Nieto Senetiner
(Mendoza, Argentina)
Petite Sirah + Petit Verdot 2016 "The Dark" Cosentino
(Lodi)
Pinot Noir 2017 Lulumi
(Pays d'Oc, France)
Pinot Noir 2016 Acrobat
(Oregon)
Cabernet Sauvignon 2017 Nadia by Laetitia
(Santa Barbara)
SuperTuscan 2015 "Borgonero" Borgo Scopeto
(Tuscany)
Cava NV Marques de Caceres
(Valencia, Spain)
Brut NV Delamotte
(Mesil-Sur Oger-Champagne)
Brut NV Paul Goerg
(Côtes de Blanc, Champagne)
Brut NV Veuve Clicquot
(Reims, Champagne)
Brut Roseè NV Grande Cuvèe Laurenti
(Champagne)
Brut Roseè NV Chandon
(Napa)
Brut Prestige NV Mumm Napa
(Napa)
A more extensive wine and cocktail list is available in-restaurant and upon request.
Beer Selection
Please ask your server for our selection of Classic & Craft Beers on Draft.
Dogfish Head 60 Minute
(DE)
Angry Orchard Hard Cider
(NY)
Maeloc Sidra "dry cider" gluten free
(Spain)
Book Our Lounge
If you're interested in booking our upstairs lounge for a private party, please fill out the form below. We'd be happy to schedule a walkthrough of our upstairs lounge!
*Event menus are available upon request*